Once you have launched your bot and it is live, you'll be able to track the data it collects.
On the left you'll see the list of bots created in this account. Select the one you're looking for.

Once you've done that, open the Activity tab.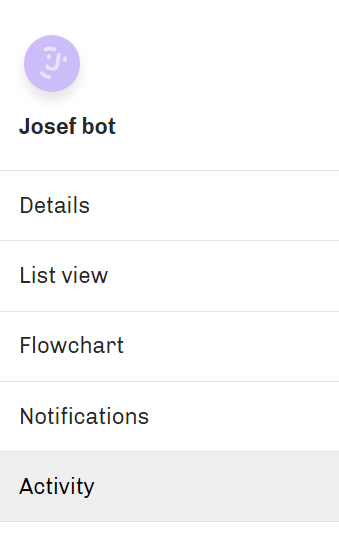 Aggregated data
Once your bot is live, in the Activity tab, you'll see aggregated data at the top of the page that shows:
The number of messages in your bot

The number of bot interactions (meaning the number of times people have interacted with your bot)

Average time spent to complete the bot

The number of documents generated by your bot

The number of notifications sent by your bot
Individual records and documents
In the Activity tab, below this aggregated data, you will see an individual record for each person who has interacted with the bot.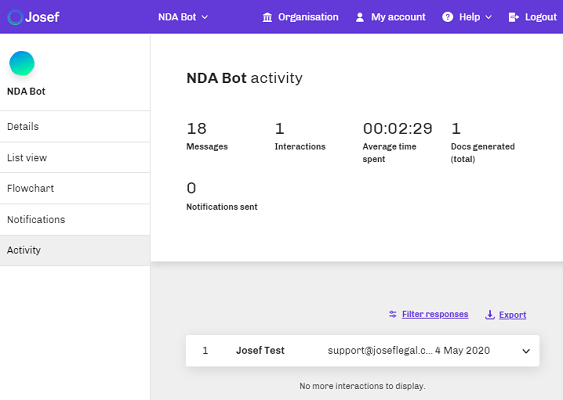 You can access the responses provided by each user by clicking into their record.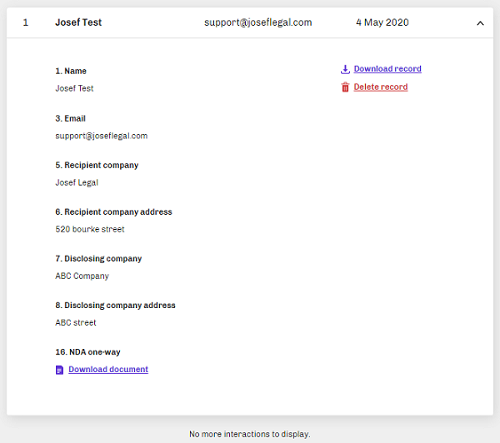 This will include a record of any documents generated for that particular user.
Data export
You can also export all data by clicking on the Export button in the right-hand side of the page.
Filter
You can change which responses show in records and which are exported by clicking on the Filter button in the right-hand side of the page. Tick the boxes for the responses that you would like to appear, or use the Select all button.
Organisational data
If you'd like to find out how to access high level information on usage and engagement for all the bots in your organisation, please head to Reporting for admins.