Once your bot is live, your bot can send automated emails when a user interacts with it in a certain way, such as if they respond to a particular message in a particular way.
To set up a notification, you'll need to:
Decide where to send a notification;

Create the content for your notification email;

Set rules for when the email should be sent;

Make your notification live.
Create the email notification
Go to the Notifications tab on the left hand panel.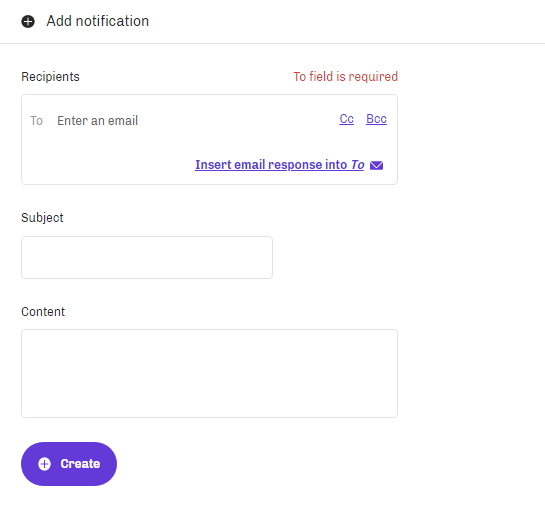 1. Decide where to send a notification
Fill in the Recipients field with the email addresses of the people you want to receive the notification.
You can also insert email addresses provided by a user to the bot. Use the Insert email response button on the lower right hand side to do this.
2. Create the content for your notification email
Fill in the subject line.
Create the content for the email. In this section you can include responses made by the user and links to documents generated.
Press 'Create' when you've finished drafting the content. Don't worry, it won't be live yet!
3. Setting rules to trigger the email
If you don't set a trigger for a notification, it will be sent whenever a user reaches a 'Final message'.
But, sometimes you may only want the notification to be sent if the user has provided particular answers to particular questions.
To do this, click on "Set trigger".
The rules sidebar will then appear.
Unlike for connections and documents, the rules you create here will determine when the notification will be sent.
To learn how to create rules, click here.
If you would like your bot to send a notification the moment the user responds in a particular way, you can apply a rule to tell your bot when it should send, and then un-check the box in the rules sidebar that says "A final message must be reached".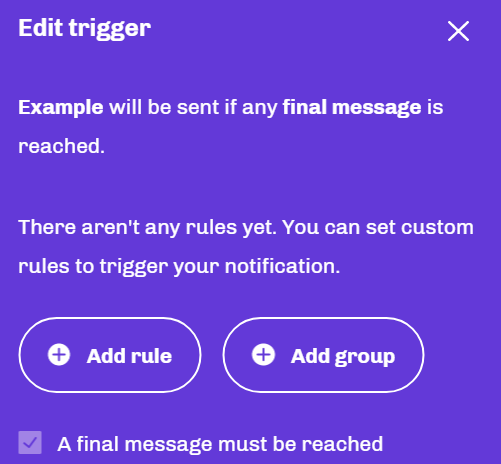 4. Make your notification live
Once you're ready, use the Draft/Live toggle to turn on the notification. Then, once you launch your bot, it will start sending email notifications.
To add another notification, press the 'Add notifications' button on the right hand side.
The email will be sent from notifications@joseflegal.com. Anyone who receives a notification can respond directly to the account holder by selecting Reply.