What's new
New design tab: builders can now control the look and feel of individual bots in their accounts.
Forms! Builders can now choose to deploy their bots as a chat, a form, or both! Forms offer better visibility over what's coming, and help users complete complex interactions more efficiently.
New sidebar: the sidebar now includes functionality for users to save progress, download their interaction, start over, and access information and links.

Progress bar: users can track their progress! This is designed to encourage them to complete the bot.
Improvements
Chat: a re-design of the chat interface means simpler and more intuitive interactions for users, including the ability to input multiple lines of text and easily undo previous answers.
Bug fixes
The following have been fixed!
Web editor: new documents not opening in the dashboard

Document messages sometimes not duplicating
New design tab
Josef launched a new design tab in the dashboard: this allows builders to customise the look and feel of individual bots. This includes the ability to easily choose whether a bot is launched as a chat or a form via a dropdown.
Builders can still set default branding in the 'My account' tab that will flow through to any newly created bots.
Note: the chat avatar has been removed to provide a seamless chat experience.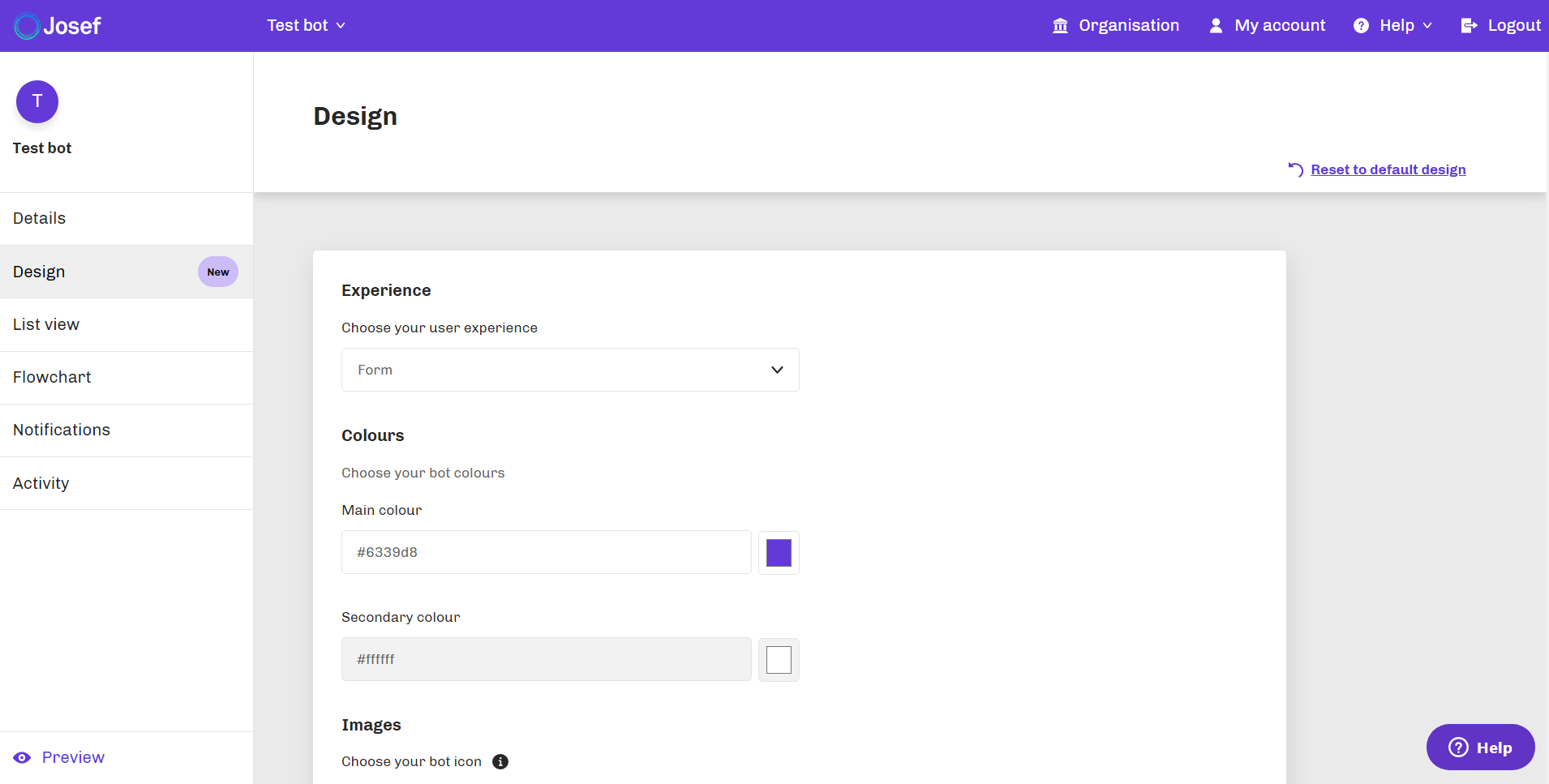 Forms
We're empowering builders with more bot options. Forms are ideal for longer interactions and users who prefer a form-filling experience. Dynamic forms means that users only see what they need to see to complete their interaction.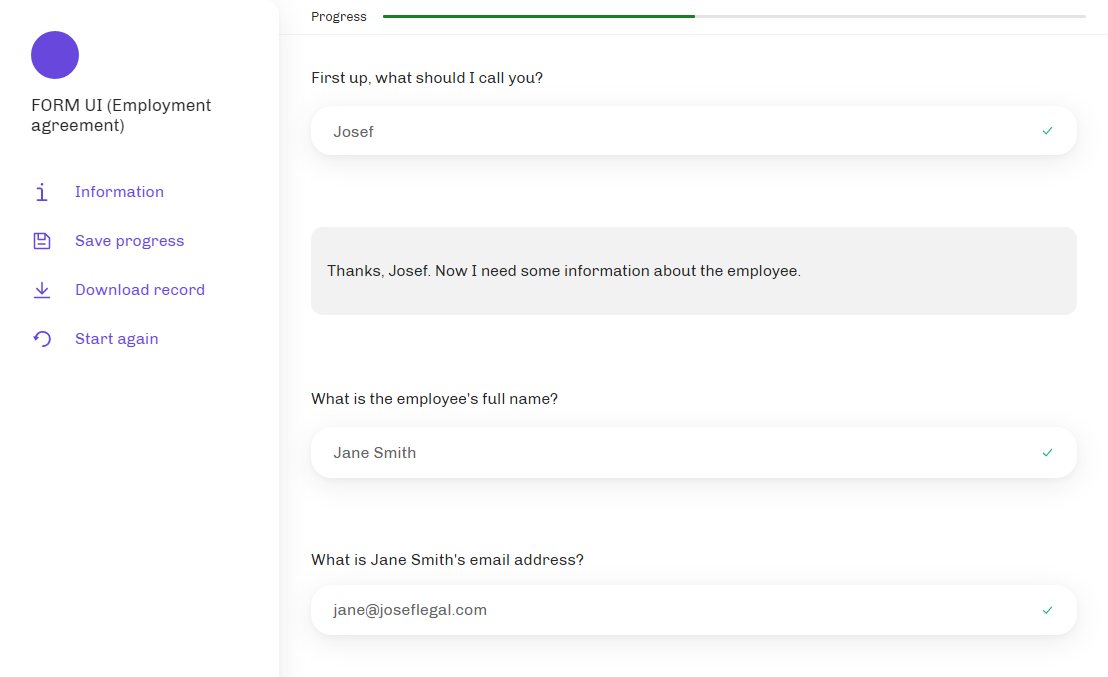 New sidebar
We've also released a new sidebar that gives users access to more information, the ability to save and share the progress of their interaction, restart their session, and to download a record of their interaction.
The Information tab gives builders the opportunity to provide important information about the bot as well as bot-specific links to other resources.

The 'Save progress' tabs allow users to retrieve a link to their individual interaction which can be accessed at a later time to be completed by the user or another party.

The 'Download record' tab allows users to download a record of their interaction, which can be useful for bots that provide legal guidance.
These features are available in both chat and forms.
Note: both the 'Save progress' and 'Download record' features are only available when bots are live.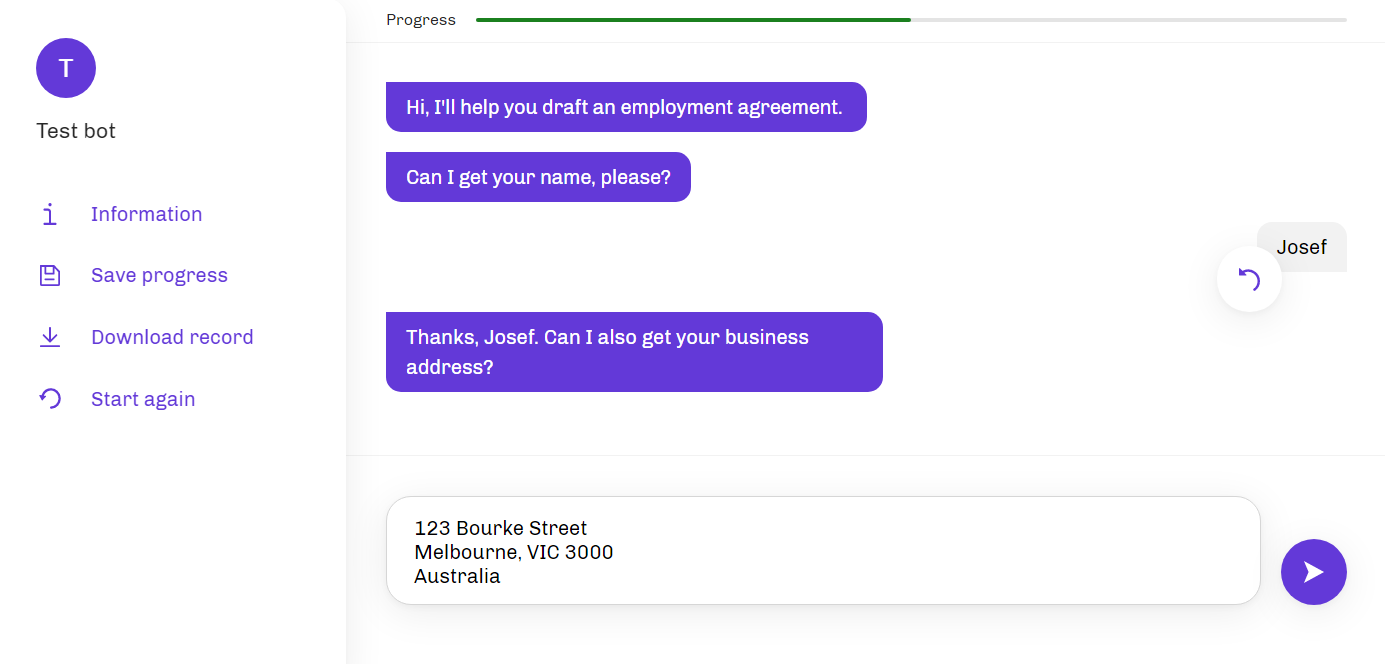 Revamped chat interface
Improvements to the chat interface provide a better and more user-friendly experience. A more accessible 'undo' button, new design of multiple choice options, and the ability to insert multiple lines of text (e.g. when inputting an address or a long response) make life easier for our users.
As always, users will be able to enjoy the same Josef experience on mobile with a responsive chat and form interface.
Note: any existing bots with the old interface will still be fully functional. Builders can update to the new chat interface, if desired, by simply retrieving and using the new bot URL generated in the Preview tab in the dashboard.